This is late for Christmas pics, and late on a Wednesday, but I feel like crap. Someone
(probably some nice person on our flight home)
gave me a stomach bugger. Nice, huh? At least the hubs just showed up with Gatorade and Julia and Julia.

The night is

lookin

up!
Now get comfy…there are tons of pics.
This was the hubs family's year to have us for Christmas, so we were in NY.
We started off Christmas Eve driving to RI to visit Billy's Grandparents.
And to take the 4 generation picture.
Christmas Day was a blast with 3 kiddos.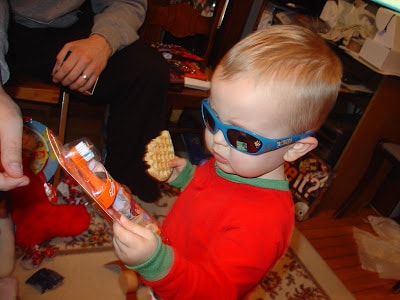 And Cooper
thoroughly
enjoyed
watching TV,
err,
visiting with his cousins.
We played crazy games
And we rocked
everyone's
socks off!
We had another photo session, which was all about the bribery.
Notice the mouths full of candy canes?

And we took our first out-law pic. They love me,
they really do.
The hubs practiced holding 2 babies at once.
We took Coop out in the snow.
And he
LOVED
it!
He liked the sledding much more than this pic shows, too.
Or maybe he just liked sledding with dad more? Or I'm a better photographer.
Lets go with that one.
Cooper slept for 4 hours on the flight from Chicago to San Fran. Thank goodness! I still am not interested in flying with a child EVER. AGAIN. Ha!
Congrats for making it all the way through!