Exactly 1 week ago, I was sitting on a plane, getting ready to try something new. I've always been willing to try anything without much fear. I mean, what's the worst thing that can happen? You don't do it again? So when I got the opportunity to experience a NASCAR race with Autotrader, I was all in. I love cars. My grandpa was a mechanic, my dad runs auto auctions and we're on our 14th car in 14 years. So why not, I thought. I threw my cutoffs into a suitcase and off I went for an adventure.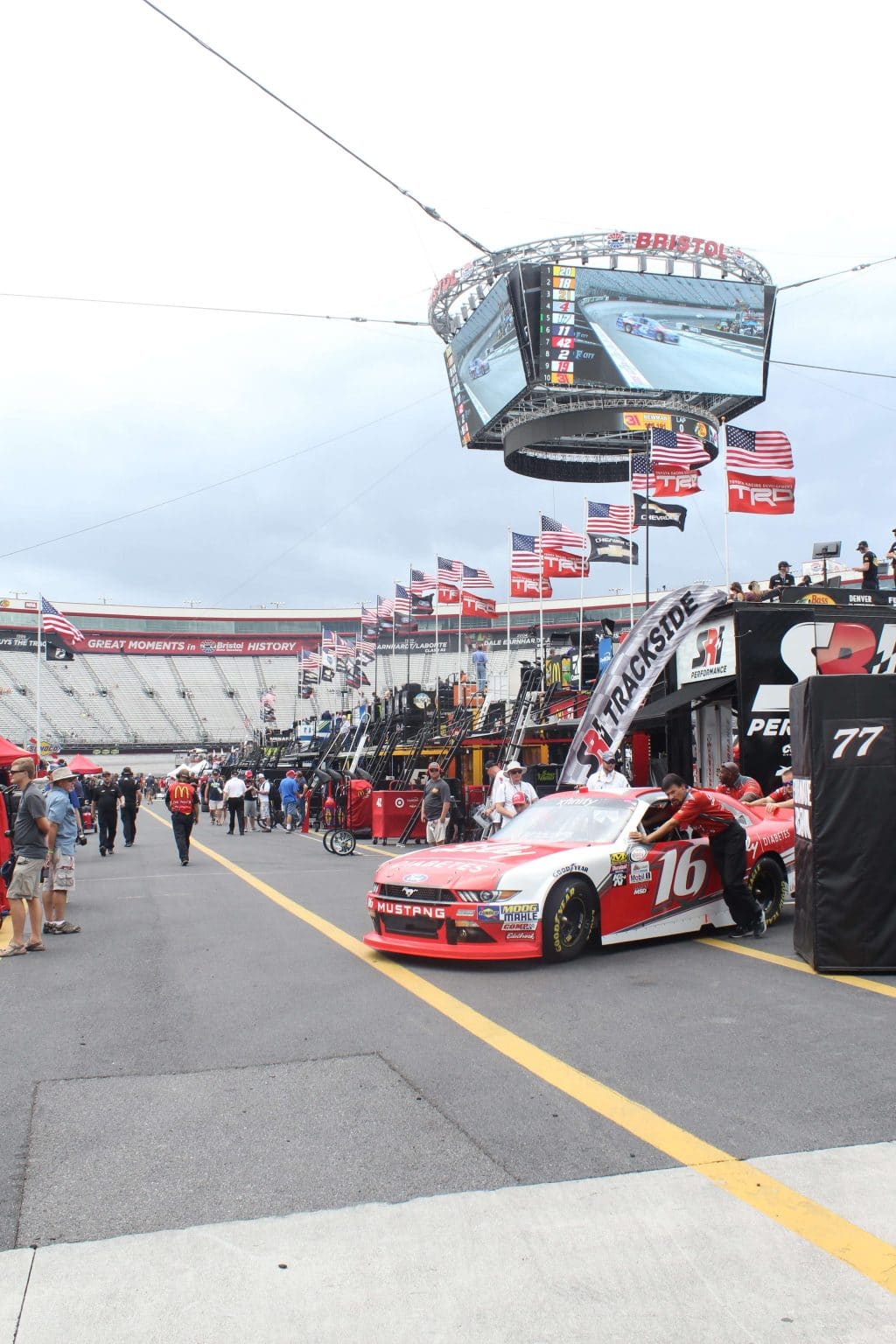 What's it it: Pure Adrenaline
I'll be honest. All I really knew about NASCAR prior to this trip was "shake and bake!" I'm actually surprised that living so close to so many driver's headquarters here in Charlotte, that I haven't been to a race. But going was a total learning experience. After picking the brain of some crew members and listening to Brad Keselowski talk to us about the race, I realized that this sport is much more than I've ever heard it get credit for. I learned about the difference clean and dirty air make in a car's performance and how the length of the track can alter that air. I learned that the car is basically thrown away after each race, as they're made to withstand about 500 laps and that's all. I saw the backup parts (and even the backup car!) that they keep on the trailer in case something goes wrong. I saw the crew firing and scraping excess rubber off of tires and heard the instruction of what part of the track to drive on, based on other cars speeds. It was mind blowing just how much goes into the whole event! I got to be right in Pit Row and could see and hear everything everyone was doing. It was such a rush!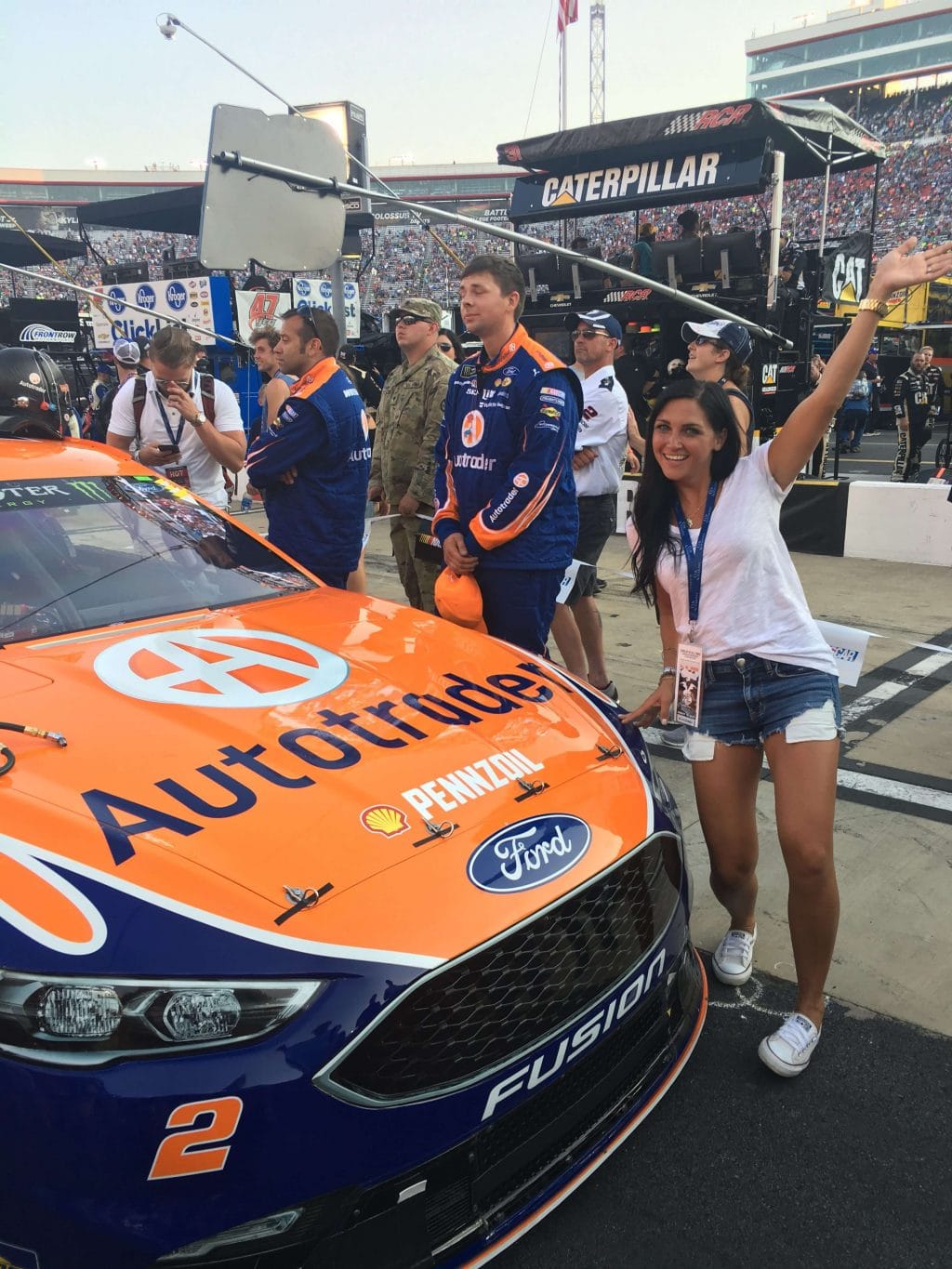 Speaking of rush, I also got the chance to ride in a pace car! Let me tell you, I could never drive a race car. We did 3 or 4 laps and topped out at 75 MPH. I thought I was going to throw up and pass out all at the same time. It was fun, but it was a tiny space, a hot car and those steep bankings made me a hot mess. I'm completely impressed that those drivers can withstand 500 laps at double the speed we went.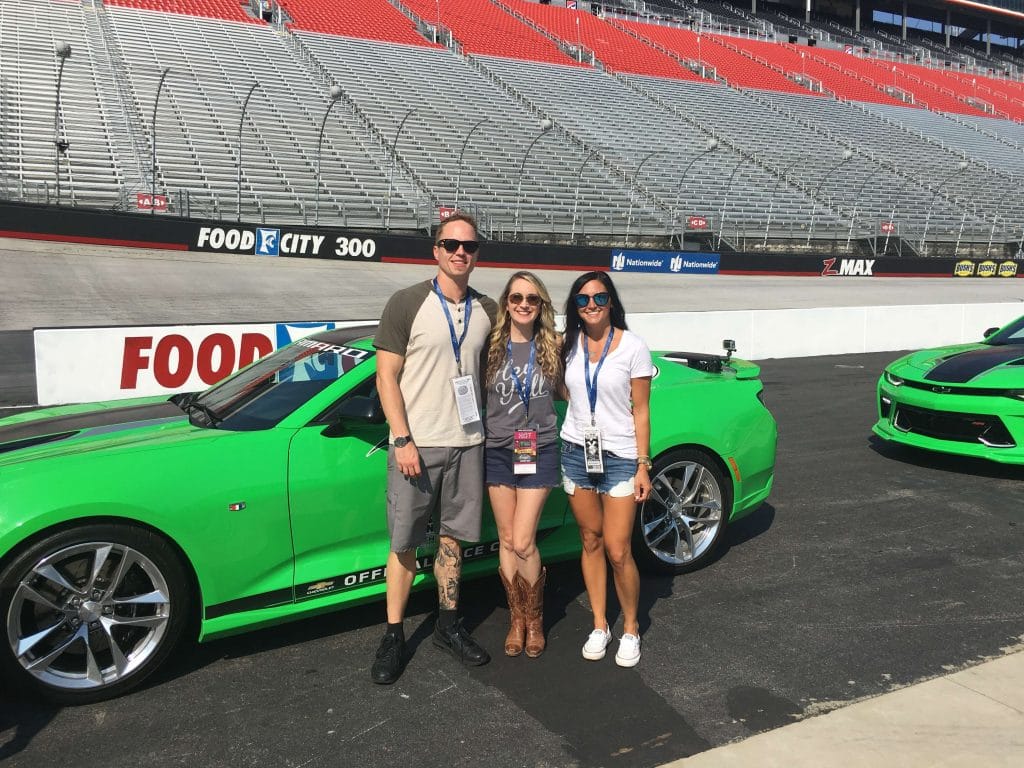 Where to go: It's Bristol, Baby
As we pulled up to the front of the Bristol Motor Speedway for the Bass Pro Shop Night Race, I couldn't stop grinning. The grounds around are littered with campers, fancy RVs, tailgating and the biggest range of people I've ever seen. It just proved to me that NASCAR is a sport all types of people can love. I was told that this particular race is the Super Bowl of NASCAR and you could tell that these people meant business. One couple we met had been camping out for 6 days leading up to the race! The stadium seats 165,000 people and is known as the "Last Great Colosseum" because of the stadium seating all the way around. I knew it was a huge crowd, but that number is shockingly huge!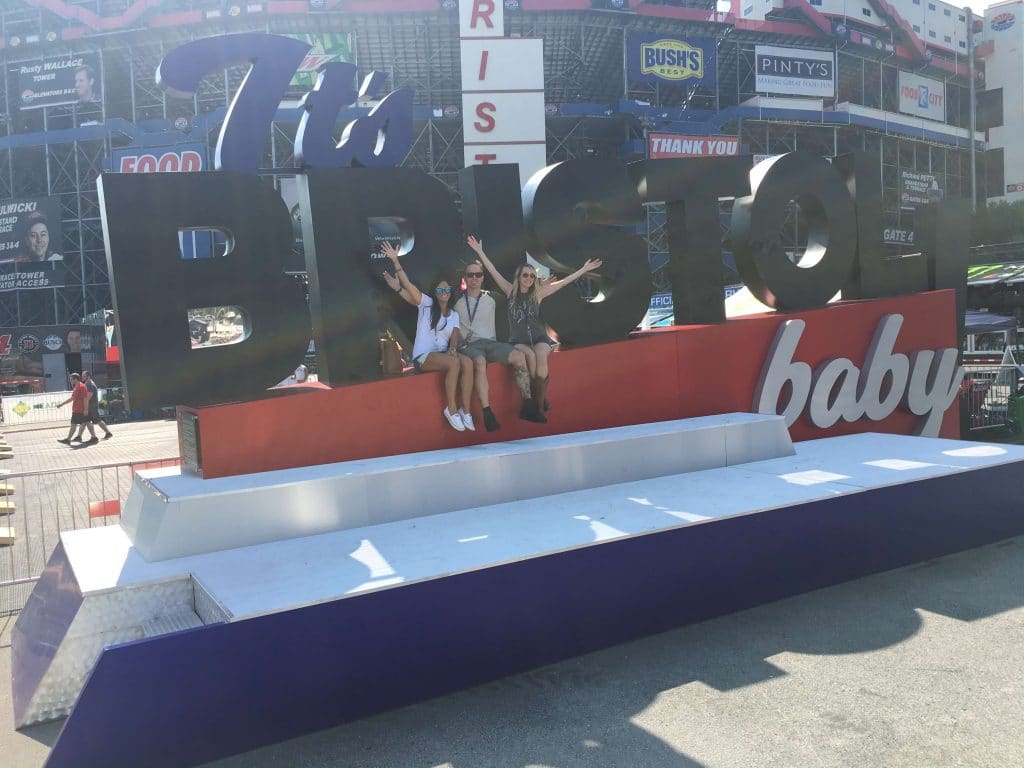 What to wear: Go Casual
This is a fashion blog, after all, and I might have googled "what to wear to a NASCAR race" several hundred times, so lets talk clothes! I was seriously on the fence about what to wear. Both days I ended up in cutoffs with sandals or Converse. It was hot as blue blazes and no one was looking fancy. I had a romper that I fully intended on putting on as the time of the night race got closer, but I never did. I fit in much more in my shorts and tee. So I would say no matter where you're watching the race from; stands or suites, go casual. Skip any type of heel because you will walk quite a bit!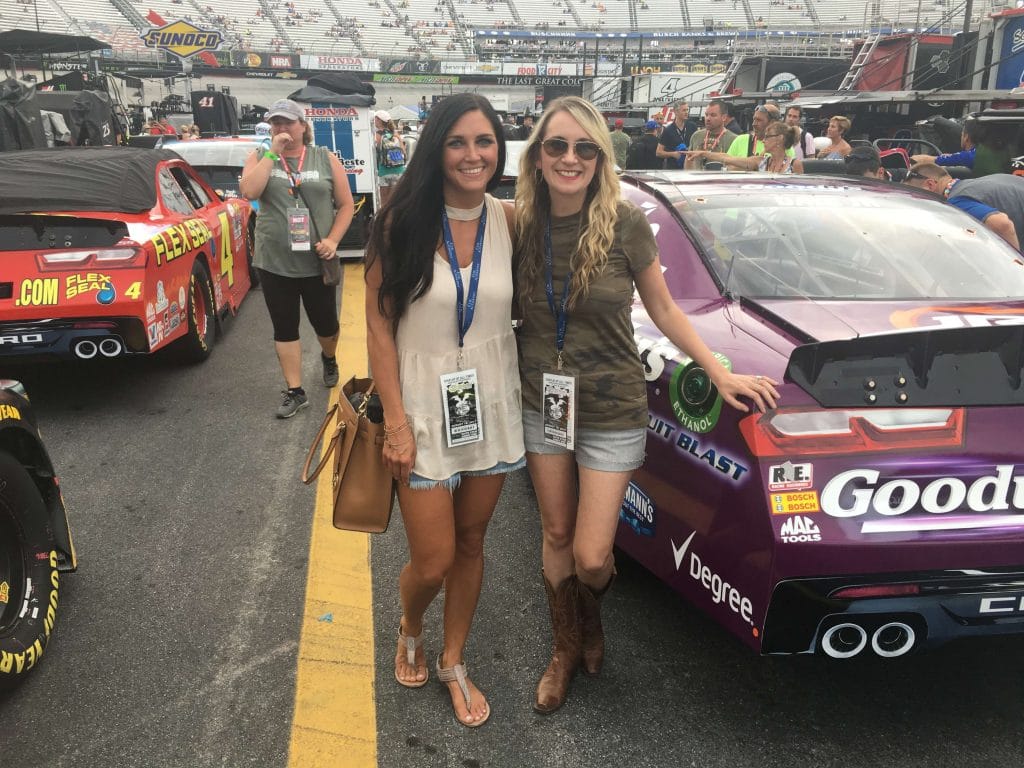 The People: The Fans, Drivers and Crew
I went on this trip knowing no one, which was the only scary part for me. I met with with 2 other bloggers (Karisa and Paul) as well as 2 people from Autotrader, and it was like hanging with old friends all weekend. We got to spend some time talking to fans that were there and I've never felt more welcomed! We were offered cold drinks, rides in their golfcarts, had an epic water balloon fight between RVs, and had an overall blast. I can say that NASCAR fans are some of the nicest people I've ever met. Not to mention the drivers themselves! Since I was at this race on behalf of #TeamAutotrader, we got to spend some time with their boy, #2, Brad Keselowski. He was genuinely such a nice guy, from running into him in his trailer, to listening to him speak to a whole group of us about the race, to signing goodies for my boys. I was very impressed. Other drivers were really nice too, in signing items and taking photos with fans. I have to give a shout out to Joey Logano and Dale Jr. for letting me snap a selfie with them before the race! The crew was amazing in answering all my newbie questions, (some of which I'm sure they wanted to roll their eyes at!) and explaining the race process.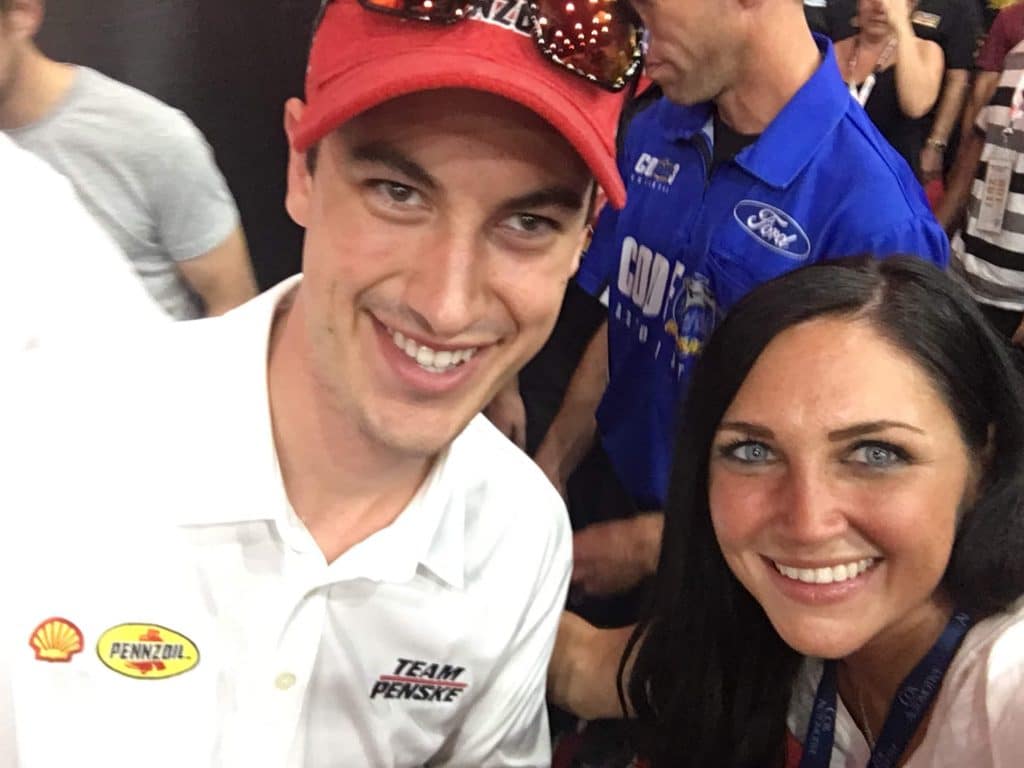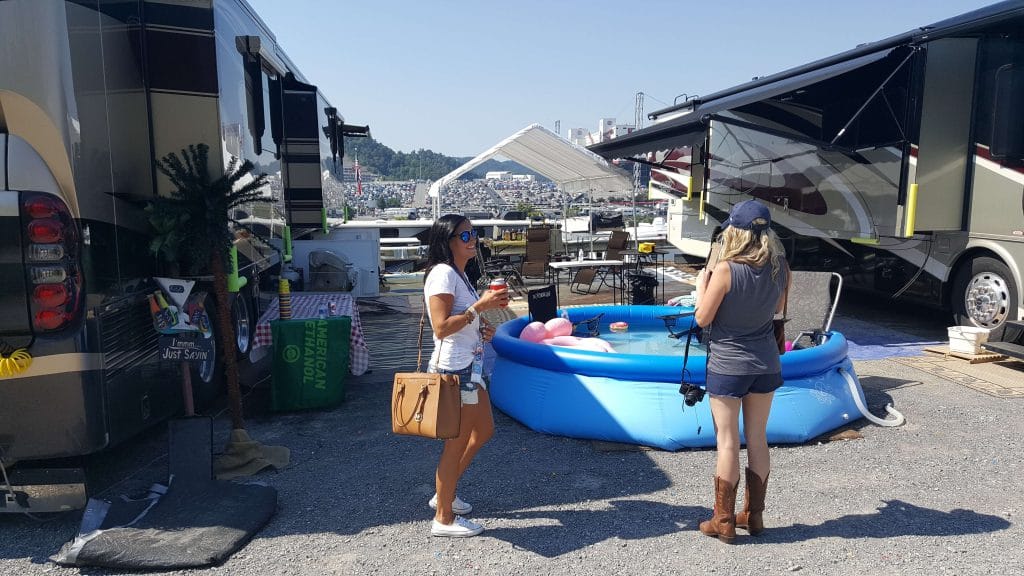 When To Go: Plan It Now
One race was all it took for me to know that I want to go to another one! Grab your fun friends and start making plans to get to a race. My advice would be to camp or rent an RV to really get the full NASCAR experience! If you've never been, but are up for adventure, trust me, NASCAR is for you!
Have you ever been to a NASCAR race? I want to know all about it! 
This post is sponsored by Autotrader; however, all thoughts and opinions are my own.